Company
Profile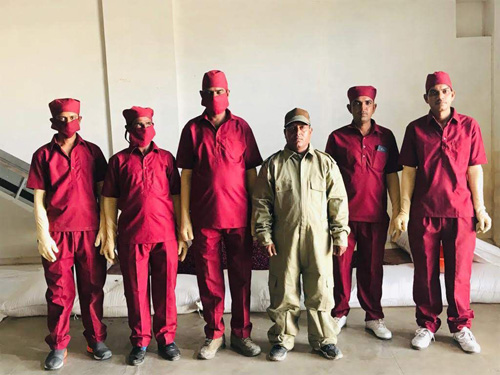 Hariom International is one of the leading manufacturers, exporters, and traders of herbs, spices, oilseeds, cereals, pulses, and other agro commodities. It has achieved phenomenal export growth and a consistently high standard quality through the most advanced technology of cleaning and computerized sorting facilities and long-standing partnerships with well-trained farmers. It ensures the finest quality products at competitive prices all year round. The company is managed by a dynamic and highly professional team who believe in customer satisfaction with proper services availed to customers.
We at Hariom International believe that customers are responsible for the success of any organization. It is the reason customer satisfaction is our primary objective. We are strongly committed to giving quality products and operations to our clients before the committed time frame. Our workforce and experienced team are solely responsible for the growth and success of the organization. We have world-class communication systems to give regular updates to our clients. Every product available with us is closely checked and inspected for different quality parameters before it is given to the customer.
At Hariom International, we are fully aware of our responsibilities. We believe in making ties and long-term relationships with our clients to enjoy mutual benefits. We carry enough stock to fulfill our commitments even when the market is volatile, and prices fluctuate. This endeavor is further helped by being a fast expanding organization having factories/godowns/offices at various major production centers. Our vast infrastructure network helps us to get the right data about various crops as well as market conditions much in advance. It thus enables us to inform the customers about the future trends.
Why Hariom International?
Offering competitive price
Providing qualitative cargo
Timely shipments
Factory stuffing for container loading under our premise
Own processor to produce a tailor made a product for importer
Strong logistic support
Providing weight and quality certificate on demand
Packaging
Understanding the needs of our customer, we take special care of the products while packing to ensure their safety, purity & hygiene. The superior quality of packaging ensures moisture proof long shelf life, quality and easy storage of products. Our packaging unit is equipped with sophisticated packing machines for high standard of quality output.
Process
Having  got complete infrastructure to handle from farm/paddy stage to milling to grading to conditioning to packing to logistics with trained professionals which enables us to handle large volume contracts & shipments. We mainly purchase the raw material from local as well as outstation market ensuring that the material is sourced from the producing centre, where fresh & latest product is available with highest quality.
Quality
Quality of the products plays very important role. That's why we treat it as never ending process and hence focus on improving quality of our products.
Infrastructure
We have advanced processing plants, like distoner, bales press, gravity separator, sortex machine, pulverizer (grinding plant), and packing machines.